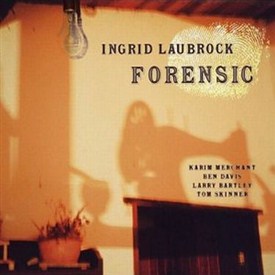 Forensic - Ingrid Laubrock - F-IRECD04 (2004)
buy now

PERSONNEL

| | |
| --- | --- |
| Ingrid Laubrock | soprano, alto, tenor and baritone saxophones, voice  |
| Ben Davis | cello |
| Karim Merchant | piano |
| Larry Bartley | double bass |
| Tom Skinner | drums + bells |
| Julian Siegel | bass clarinet |

TRACK-LIST
| | | | |
| --- | --- | --- | --- |
| 1 | | Forensic Experts | 3.58 |
| 2 | | Stone Lions | 7.20 |
| 3 | | Monologue Man | 2.01 |
| 4 | | Monologue Man pt2 | 8.39 |
| 5 | | Us | 4.48 |
| 6 | | Forensic | 8.15 |
| 7 | | Clara | 5.12 |
| 8 | | Stringding | 6.06 |
| 9 | | Mirrors | 7.45 |
| 10 | | BLT | 12.28 |

THANKS TO
Karim, Larry, Ben, Tom and Julian for your beautiful playing and friendship, Chris for pics, Curtis, Sarah W, Seb for the remixes, Barak (and everyone ar F-IRE, Kim Burton for the piano and everyone I've been playing with over the years. Love to my family and all of my friends, wherever you are, this music is for you!


TECHNICAL INFO
| | |
| --- | --- |
| Mastering | Andrew Tulloch |
| Design | Pandora Vaughan |
| Photos | Ingrid Laubrock, Chris Balmer |
REVIEWS
"Already known for her collaborations with the Brazilian-oriented NOIS 4 and the BBC Awarded F-ire Collective, saxophonist and composer Ingrid Laubrock shows an inextinguishable curiosity, testing stylistic boundaries both as composer and interpreter. Her investigative (indeed, forensic) approach to jazz shapes the album from head to toe, dissecting it under a playful scalpel.
Forensic employs the entire kaleidoscope of Laubrock's talents: she plays soprano, alto, tenor, baritone saxophones; she sings; she writes all the pieces (apart from three group improvisations). Still she is a selfless frontwoman: she knows when to step aside, and has that rare gift of being a great listener. All the band (F-ire recruits Ben Davis on cello, Karim Merchant on piano, Larry Bartley on bass and drummer Tom Skinner) are given plenty of room. If, as Dave Liebman would say, the most fulfilling role of a frontman is to guide and enhance one's fellow musicians' progression, then Laubrock must be contented indeed.
In terms of composition she leaps into the choppy waters of avant-garde jazz: a multilayered and spacious improvisational playground for Laubrock. We get zesty, contemporary classically derived high-pitched dissonance; unbounded sheets of sound; post-bop frenzy; post-rockish drumming; dry, minimalist sax riffs; stumbling piano improvs: they are all part of her musical diet.
With this wide, varied dynamic of styles Laubrock is urging us to dare to be playful; and intelligent. Ultimately, to stay curious. It's a proposition that's hard to resist."
- 01/03/2005 Lara Bellini, BBC Music


"Saxophonist Laubrock has been a worthwhile presence on the London jazz scene for several years now, leading her own bands with a bit of nous as well as contributing grace and guile to the Brazilian Ensemble Nois4. This new set reflects an increased bravura in both her composing and soloing, almost as if she knows she can push herself and her collaborators - bassist Larry Bartley, pianist Karim Merchant, cellist Ben Davis and drummer Tom Skinner - without things going off the rails.

The opening salvo Forensic Experts is proof thereof; an urgency, a kind of controlled vexation governs the way she places some beautifully curled, skipping notes around Larry Bartley's economic but effective and downright dark bassline. There is a groove-swing thing going on that craftily squeezes the energy of electric Miles into an acoustic context in a manner not dissimilar to that of Dave Holland's high octane excursions. A most potent punch is packed. That level of invention is maintained throughout the set as Laubrock's arrangement prove to be smartly evolutionary, drawing on anything from contemporary classical austerities to edgy soundtrack strains to incantatory ethnic percussion (The sneaky, sulphurous counter rhythm of bells on Monologue Man pt2).

Maybe a few of the pieces could have done with a touch more concision but the slightly loose, lunging character of the album feels right for a predominately dark, moody ambience that highlights the leader's strength of character in no uncertain terms. Inventive, intuitive and at times inflammatory, Forensic is an album that wholly corroborates any case you'd care to make for Laubrock as an artist of real substance."
- 01/11/2004 Kevin Le Gendre in ECHOES


LINKS
www.ingridlaubrock.com