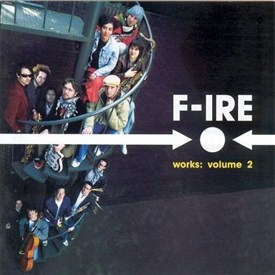 F-IRE Works 2 (Compilation) - F-IRE Collective -
F-IRECD09 (2005)
buy now

London's critically acclaimed F-IRE Collective release the second volume in the F-IRE Works compilation series in October 2006 to coincide with their UK tour for the Contemporary Music Network. 

This latest offering is a double CD which offers a glimpse of some exciting, unexpected directions from these musicians. We can expect to experience these new projects in greater depth over the coming year. Django Bates has provided a liner note endorsement.

Disc One places well known success stories of recent times such as Acoustic Ladyland, Polar Bear, and the Jonathan Bratöeff Quartet, alongside sneak previews of forthcoming albums from Nick Ramm's Clown Revisited, Barak Schmool's Méta Méta, Basquiat Strings with Seb Rochford, Squash Recipe (yet another collaboration from Tom Arthurs), and a duo from Ingrid Laubrock and Liam Noble.

Disc Two represents a foray into the field of electronic experimentation for many of these artists. It includes a preview of the forthcoming album for Robert Mitchell's Panacea, Jonathan Bratöeff's Points of Perspective, Tom Arthurs and Ollie Bown Electric duo, Sebastian Rochford's Fulborn Teversham, Ezzthetic and a collaboration between Ingrid Laubrock and Leafcutter John.

TRACK-LIST
| | | | |
| --- | --- | --- | --- |
| DISC 1 | | | |
| 1 | | Acoustic Ladlyland - Remember | 5.46 |
| 2 | | Justin Quinn's Bakehouse - Don't Fret | 6.44 |
| 3 | | Nick Ramm's Clown Revisited - Bargain Bucket | 5.07 |
| 4 | | Polar Bear – Fluffy (I Want You) | 5.19 |
| 5 | | Julia Biel - Where is She Now? | 5.49 |
| 6 | | Jonathan Bratoeff Quartet - Equilibre | 8.37 |
| 7 | | Ingrid Laubrock and Liam Noble – Sonic Snapshot | 3.41 |
| 8 | | Jonny Phillips' Oriole - Angels | 4.49 |
| 9 | | Squash Recipe with Tom Arthurs - Cerebral Blip | 3.50 |
| 10 | | Basquiat Strings & Sebastian Rochford - Forceful Beast | 5.50 |
| 11 | | Méta Méta - Odudua | 7.18 |
| | | | |
| DISC 2 | | | |
| 1 | | Robert Mitchell's Panacea - The Brink | 5.45 |
| 2 | | Spin Marvel - Black Wing | 5.59 |
| 3 | | Jonathan Bratoeff's Points of Perception - Idiom | 5.30 |
| 4 | | Ezzthetic - Pacino | 7.22 |
| 5 | | Dr Seus - The Swede | 6.35 |
| 6 | | Tom Arthurs and Ollie Bown Electric Duo - Vero | 2.50 |
| 7 | | Julia Biel – Treetops | 3.38 |
| 8 | | Barak Schmool's Componium - Säd Afrika | 2.39 |
| 9 | | Sebastian Rochford's Fulborn Teversham | 0.58 |
| 10 | | Ingrid Laubrock and Leafcutter John - Say Anything | 5.21 |

THANKS

the musicians of the F-IRE Collective wish to thank Tony Dudley-Evans, Oliver Weindling and Peter Slaveid for their help and support.


TECHNICAL INFO
Production
Ian Latham, Julia Biel, Tom Arthurs,
Maurizio Ravalico, Barak Schmool
Mastering
Roland Clarke @ CRS Media
Design
Yann Binet
Photography
Leonie Purchas, Yukari, Kishida