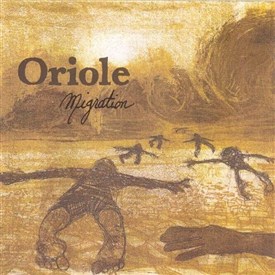 Migration - Oriole - F-IRECD13 (2006)
buy now

Migration is Oriole's second album, a sensory banquet of soaring melodies, colourful South American folklore, lively dances and emotional ballads of longing. Music that creates a rich, emotionally disquieting world that is at once familiar and dreamlike. A world of freedom, of movement, of dusty roads and travelling musicians in shaded market squares whose journey will never end.

These are songs of magical realism mingling elements of fantasy, myth, desire and wanderlust in renderings that blur traditional distinctions between what is serious or trivial, melancholic or joyous.

PERSONNEL
| | |
| --- | --- |
| Jonny Phillips | guitar, compositions |
| Ingrid Laubrock | sax |
| Ben Davis | cello |
| Seb Rochford | drums |
| Ruth Goller | bass |
| Fernando de Marco | bass |
| Anders Christensen | bass |
| Adriano Adewale | percussion |
| Okou | vocals |
| Julia Biel | vocals |
| Guillermo Rozenthuler | vocals |
| Idris Rahman | sax |
TRACK-LIST
| | | | |
| --- | --- | --- | --- |
| 1 | | Forms in Dust | 07:54 |
| 2 | | First Flight | 07:09 |
| 3 | | Bate Calado (intro) | 01:46 |
| 4 | | Bate Calado | 04:13 |
| 5 | | Migration to the Orange Trees | 05:40 |
| 6 | | We're All Angels | 04:51 |
| 7 | | Sunshine Continuous | 05:42 |
| 8 | | Two Smiles | 02:37 |
| 9 | | Hymn | 05:26 |
| 10 | | Last Flight | 04:23 |
| 11 | | Amen | 02:04 |

TECHNICAL INFO
| | |
| --- | --- |
| Production | Jonny Phillips,Joe Leach |
| Engineering & mixing | Joe Leach @ Cowshed |
| Mastering | Robert Harder |
| Artwork | Stephan Gnospelios |
| Design | Reescycle |

REVIEWS

"This album delivers those light hearted and playful moments we expect of the summer, its skillfully and wholeheartedly composed and performed by an exceptional band."
- Miriam Hempel - Straight No Chaser
"A musical mosaic that feels as spiritualy uplifting as a Paulo Coelho novel"
- Tom Barlow – Jazzwise ****

"an early contender for jazz release of the year - uplifting melodies that'll make you smile, think and want to dance."
- Kerstan Mackness – Timeout – London

"This is a beautiful album, flawlessly written, arranged, played and produced - A joy to listen to and it should be a contender for the album of the year"
- Chris Mann -24dash.com