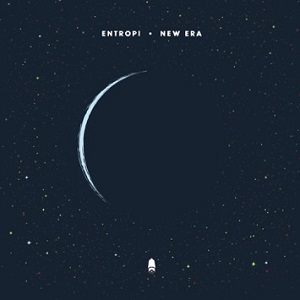 New Era - Entropi - F-IRECD78 (2015)
buy now

New Era is the debut album from Entropi, an innovative and exciting ensemble making compelling improvised music based on strong concepts and ideas, led by composer and saxophonist Dee Byrne. The music explores notions of chance and fate, our relationship with space and the cosmos and the unpredictable and insecure nature of existence.These themes provide a fruitful context for exploring the relationship between order and chaos and between organisation and spontaneity in improvised music. The band's name (using a European spelling reflecting Byrne's time studying English and Linguistics in Stockholm) also reflects these ideas.
PERSONNEL
| | |
| --- | --- |
| Dee Byrne | saxophone, compositions |
| Andre Canniere | trumpet |
| Rebecca Nash | piano |
| Olie Brice | bass |
| Matt Fisher | drums |
TRACK-LIST


| | | |
| --- | --- | --- |
| 1 | New Era | 08:01 |
| 2 | Mode for C | 05:30 |
| 3 | In Flux | 09:06 |
| 4 | Orbit | 07:31 |
| 5 | Exploration Part I | 09:32 |
| 6 | Crippled Symmetry | 05:56 |
| 7 | Exploration Part II | 04:16 |
| 8 | Space Module | 09:36 |

LINER NOTES
The opening New Era explores the idea of a new dawn emerging from uncertainty through the use of open-ended sections giving rise to group interaction. In Flux explores unpredictability through abruptly shifting musical environments, creating radically different feelings. Rebecca Nash's piano solo, delivered in a modal setting, offers a sense of release. Orbit directly explores notions of outer space (for Byrne 'a means of contextualising our existence'), particularly the idea of rocks weaving between each other in an asteroid belt, sometimes creating collisions. The music also creates a sense of otherworldliness emphasising the vastness of space.
Crippled Symmetry explores the idea of chance encounters - do they happen purely by chance or is some kind of synchronicity at work? The musicians in the band are all given individual phrases of varying lengths that meet at various points in the piece and then diverge. This is followed by a 'cathartic rock section' that perhaps expresses frustration and the inability to find answers to all these questions! Space Module presents the human journey through the metaphor of a vessel in space - an unknown quantity creating a disturbance. Byrne's approach emphasises that life is transient - a hopeful rather than depressing thought in that it hopefully inspires us to live more fully. Byrne's music is full of vitality and joy as well as intelligence and intensity.
Dee Byrne has made a name for herself as a tirelessly enterprising performer, composer and promoter. She has also worked with the Vicky Tilson Quartet (with a new album Mojo Risin', released on F-IRE), Paul Baxter's Destination Out and is one half of electronics and sound art duo Deemer. She has also worked in collaboration with Cath Roberts (Quadraceratops, Ripsaw Catfish) on LUME, a highly successful regular night of improvised music in London (weekly at Long White Cloud in Hackney, monthly at The Vortex Jazz Club).
Entropi also features the melodic improvising and clear tone of trumpeter Andre Canniere (who has released two acclaimed albums under his own name on the Whirlwind label). Keyboardist Rebecca Nash offers an appropriately responsive and interactive approach whilst drummer Matt Fisher offers a malleability and versatility drawn from his wide experience in a range of different musical contexts. Bassist Ollie Brice is well suited to this improvising environment, offering depth and spontaneity. Having performed live together for some time, the band has achieved a striking empathy and freedom to take risks.


LINKS
www.entropimusic.com
www.deebyrnemusic.com