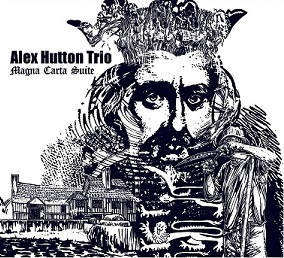 Magna Carta Suite - Alex Hutton Trio - F-IRECD82 (2015)
buy now

Magna Carta Suite is Alex Hutton Trio's fourth album and offers a musical journey of ideas exploring the layers of history and landscapes from 1215 to 2015. The suite highlights the influence of Magna Carta as a founding document of the western traditions of liberty and democracy in this the 800th anniversary of its signingand its influence in the creation of the American constitution.
The inspiration for Magna Carta Suite came on Hutton's daily dog walk through the ancient woodland where the Magna Carta was signed, between the villages of Wraysbury and Runnymede, near Windsor. Capitalizing on the wide range of colours and textures available to him with his trio, he composed a suite that draws on music from northern European and especially English sources over the last 800 years.  Hutton then tied these themes to specific political or social events in history. Using early music, baroque classical and English folk as melodic and harmonic fragments Hutton depicts a forward momentum in the music as Western music developed in parallel with the pursuit of liberty and democracy.
PERSONNEL

| | |
| --- | --- |
| Alex Hutton | piano |
| Yuri Goloubev | double bass |
| Asaf Sirkis | drums |
| | |
| guests | |
| | |
| Neil Sparks | vocals (11,12) |
| Liz Palmer | baroque flute (1,10,12) |
| Liesbeth Allart | Cor anglias (2,9) |
TRACK-LIST
| | | | |
| --- | --- | --- | --- |
| 1 |   | Old Yew | 1.52 |
| 2 |   | King John's Hunting Lodge | 1.23 |
| 3 |   | The Barons | 2.47 |
| 4 |   | June 15th 1215 | 2.37 |
| 5 |   | Gutenburg Press | 6.11 |
| 6 |   | Gunpowder and Compass | 6.58 |
| 7 |   | Self Made Man | 5.22 |
| 8 |   | The Fog of War | 2.47 |
| 9 |   | King John's Hunting Lodge (reprise) | 1.40 |
| 10 |   | Old Yew (reprise) | 2.05 |
| 11 |   | Thoughts Bear Heirs to Memory | 2.44 |
| 12 |   | As Sunlight Passes (Old Yew) | 2.02 |
All compositions by Alex Hutton
tracks 11 & 12 by Alex Hutton / Neil Sparkes


TECHNICAL INFO
Recorded at

Masterchord Studio, London, August 2014

Engineering

Raoul Terzi, Nick Kacal.

Assistant

Michele G Catri

Mixing & Mastering

Simon Changer @ North Seven Studios

A

rtwork

Alban Low


LINER NOTES
The album opens with Old Yew (the Magna Carta was signed beneath a 2000 year old Yew Tree). It's an organic theme, where Arco bass and baroque flute lines twist and turn over a percussive piano foundation. 

King John's Hunting Lodge, was born from Hutton's desire to compose a simple restful folk song that had the same emotive quality as Greensleeves. 

The Barons, brings a mood of urgency and conflict (as they push their demands on the King). It segues into June 15th 1215, a sort of English Jig that celebrates the signing and that nods to Vaughan Williams. 

The delightful Gutenberg Press is rooted in baroque like harmonies of the day and celebrates one of what Francis Bacon (writing in 1620) hailed as three world changing inventions: the Gutenberg press, Gunpowder and Compass. Which brings us onto track 6, Gunpowder and Compass, two of the driving forces behind the colonisation of the new world and a direct link to the Magna Carta becoming the bedrock of the American constitution. 

Self Made Man is a song for the romantic era as Hutton attempts to describe the optimistic values of the 19th Century. 

The Fog of War is a phrase Churchill used to describe the confusion and dis-information of war, but could just as well apply to the whole of the last century. Musically the piece starts innocently enough with an idea influenced by Alexander Scriabin (early c20th) then moves into a cycle that picks up momentum and tension before fading out. 

King Johns Hunting Lodge (reprise) returns back to the hunting lodge. Its still there - in Wraysbury - and the melancholy cor anglias seems even more poignant on this reprise. 

The suite ends with Old Yew (reprise) as we come back to out starting place; the tree still remains in 2015. A stronger more defined version of the piece, the cry of the flute seems more haunting offering a fitting end to a suite that seeks to engage us with ideas and beliefs that resonate down the centuries. Finally, the inspired words of Neil Sparkes plot this trip through poetry. Using the same starting point, the Old Yew Tree, the words follow the Magna Carta to the new world, just as Hutton's music follows the Magna Carta's influence down the ages to today.


LINKS