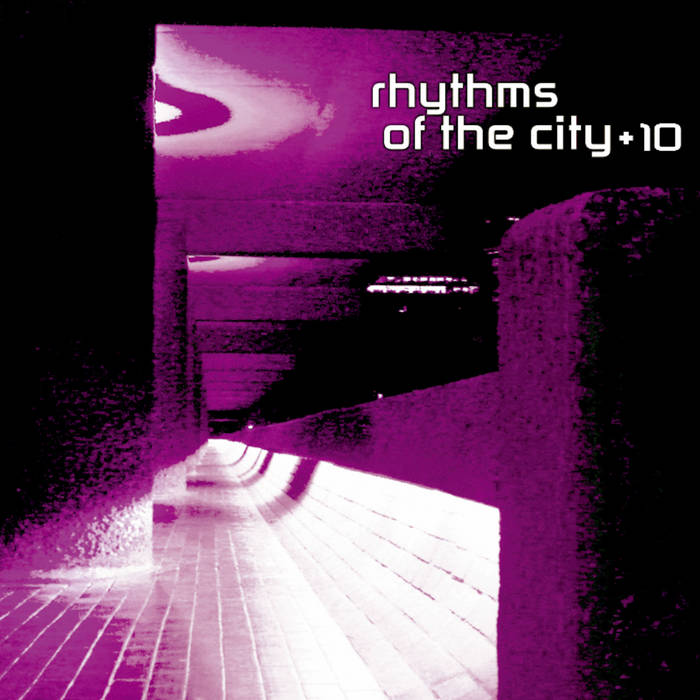 Rhythms of the City - Rhythms of the City + 10
F-IRECD097 (2019)
buy now
London's finest bateria (samba percussion section) is joined by multiple guests from Brazil, Cuba and elsewhere celebrating 10 more years of carnival music making. Singers, drums, guitars, keboards and horns getting hot 'n' heavy as ever, in both expected and unexpected ways.


PERSONNEL
Lead Vocals
Brian Taylor (2), Christiane Petersen (3), Maciej Burdynowski (4), Appolonie Sinko (5),
Shayanna Dyer-Harris (6), Jesus Cutiño (7), Fabio Allman (8), Aleh Ferreira (9,10), Inês Loubet (11)
Keyboards
Barak Schmool (1-3,5,8,10)
Guitars
Greg Sanders (1,4,6), Owen Snider (1,5,8), Richard Gold (2,3), Telmo Sousa (8-10), Luíz de Moraes (11) Iakovos Loukas (6)
Tres
Iakovos Loukas (7)
Cavaco
Jeremy Shaverin (9,11)
Violin
Nick Sigsworth (9)
Trumpets
Rory Simmons (1,2,4,6,7), Tom Allan (2)
Saxes, Flutes
Barak Schmool (1,2,4,5,9,11)
Tamborins
Adam Osmianski, Alex Talbot, Henry Frakes,
Matt Parkinson, Owen Snider (1, 4-11);
Trevor Yearwood (2, 3);
Barak Schmool, Jeremy Shaverin (all tracks)
Agogô
Alex Talbot, André Johnson, Jeremy Shaverin (1,4-11); Barak Schmool (all tracks)
Shakey Things
Jeremy Shaverin (6); Barak Schmool (1-5,7-11)
Caixas
Adam Osmianski, Alex Talbot, André Johnson,
Jeremy Shaverin, Owen Snider (1, 4-11);
Bosco de Oliveria, Brian Taylor, Francesc Marco Sendon, Hammadi Rencurell Valdes, Wesley Gibbens (2,3)
Repiniques
Laurence Hill (1,4,-11); Barak Schmool (all tracks)
Surdos
Alex Talbot (4, 6, 7, 11); Barak Schmool (1, 4-11);
Fabio de Oliveira, Jeremy Shaverin, Tom Kay (2,3)
all other perc.
Barak Schmool, who did the arrangements, by the way
Backing Vocals
Inês Loubet (3,4,7,8,10), Amy Lu (2,3)
Nora Jorba Soler (7), Marisa Oikawa, Ally Dowson,
Nathalie Huyghues-Beaufond, Theo Guttenplan, Andrew Lidell, Leo Bennett, Julius Johansson,
Jeremy Shaverin, Barak Schmool (2,6,8,9,11);
special thanks to Edan Cohen for playing the guitar final F on clapping song
TRACK-LIST
| | | | |
| --- | --- | --- | --- |
| 1 | | Ransom | 3.47 |
| 2 | | Zombie | 4.35 |
| 3 | | Ritmos da Cidade | 3.40 |
| 4 | | Nossa Quadrilha | 2.36 |
| 5 | | Iko Iko - Clapping Song | 5.39 |
| 6 | | Golden | 3.33 |
| 7 | | El Cuarto de Tula | 4.10 |
| 8 | | O Que Sobrou do Céu | 4.01 |
| 9 | | Jack Soul Brasileiro | 4.34 |
| 10 | | Rua da Passagem | 3.38 |
| 11 | | Liberdade, Liberdade | 4.12 |

THANKS
thanks once again to our friends and families, also

...all other performers who have shared in the RotC experience over the years,
most especially Aliki Leftherioti, Adam Spiers and Liz Awad

...those friends opening the way for us:
everyone at Monobloco, Bloco do Sargento Pimenta, Bangalafumenga, Thriller Eléctrico, Friendly Fires, + Serjão Loroza, Sergio Naidín, Mestre Odilon, Mestre Maurão, Ailton Nunes, Fernando Leobons, Ernani & Bianca Calcagni, Vanessa Damasco, Elton Sapucaia

...our carnival and dance collaborators:
Teresa Askew and Frank Sweeney @ Great British Carnival, Mandinga Arts, ArtReach, Gandaia Arts, Mahogany, Beat Carnival, Brazilian Fantasy, Samara Reis, Aneta Kopickova, Yazzmin Newell, Ivelina Dzantova, Orquídea Lima, Elisangela Mahogany, Asia Horst,

... Guanabara, Boteco do Brasil, Grace Bar, Jazz Café, The Piano Works, The FA, Event 360, and all the other venues and festivals who have hosted us

...our supporters at Guildhall School of Music & Drama, City University

...all audiences and participants at our events


TECHNICAL INFO
Engineering
Aviv Cohen, Tim Burns, Tom CC, Telmo Sousa,
Julius Johansson
Editing
Aviv Cohen, Tim Burns, Tom CC
Mixing
Aviv Cohen
Mastering
Roland Clarke @ CRS Media
Photography
Danielle Coore
LINER NOTES
Rhythms of the City has been around since 1999, a flexible community of learners, professionals and teachers coming together to play creative carnival style music from near and afar (mostly afar). This album, 10 years on from our first, documents only some of the music we have been making 2008 -2018. The extensive band list reflects the number and variety or artists who have been involved in that time. Notably in this period, we formed a succesful ongoing collaboration with similar blocos (carnival percusison groups) in Rio de Janeiro. Our mentors Monobloco and new colleagues Bloco do Sargento do Pimenta visited us for London Olympics 2012, and we followed them back to Rio soon after. The legacy is here in sound... songs with and from the friends we made and with the rhythms we played together.... samba, samba-xarme, côco, funk, quadrilha as well as our own-brand afrobeat, salsa and 2nd line.
The music: Ransom / Zombie - David Okumu's tribute to Fela Kuti, coupled with the great man's best known hit; Ritmos da Cidade / Nossa Quadrilha are written for us by composer / Monobloco member Gabriel Lopes; Jill Scott's classic Golden is given a Brazilian treatment whilst R'n'B/Motown tracks Iko Iko and the Clapping Song are (re-)united with New Orleans carnival; our insistance on playing salsa with the 'wrong' instruments continues with Sergio González Siaba's famed son El Cuarto de Tula; our guest singers from Rio bring O Rappa's anthem O Que Soubrou do Céu and two Lenine creations - Jack Soul Brasileiro and Rua da Passagem, leaving only Liberdade, Liberdade immortalised by samba school Imperatriz in their winning of 1989 Rio Carnival.